How did my first Ironman race start?
How to begin? Well, I guess from this moment, the tipping point that is me meeting a group of pretty crazy/super strong triathletes coached by my university's colleague Ivet Farriols. This was more or less two years ago, thanks to Ivet and Oriol Palau, I would meet my future team-mates whom I would share the suffering of my first Ironman race preparation.
The team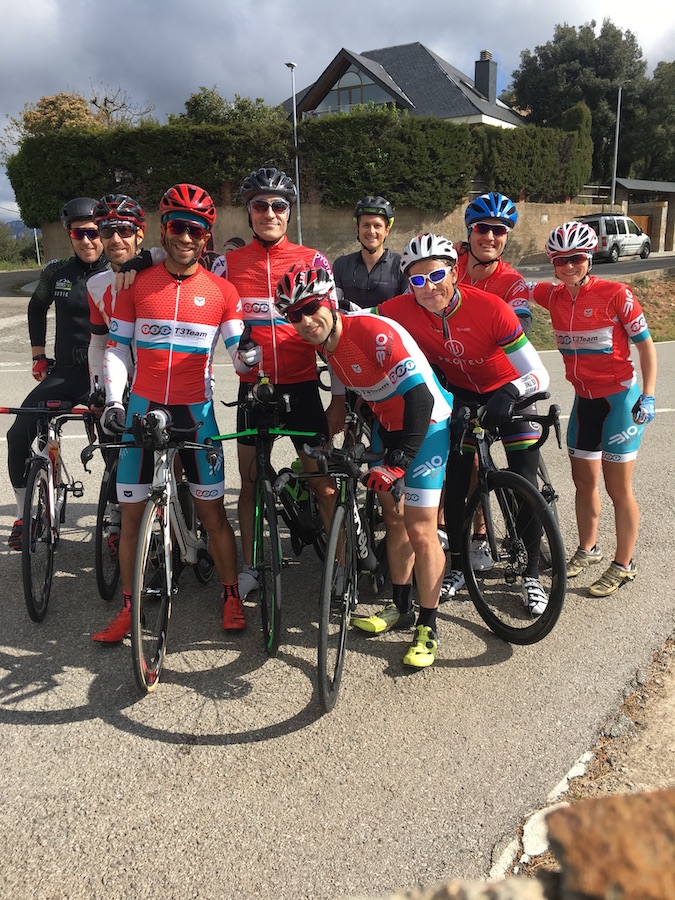 A few months ago, Vincent Luis, french triathlete had chosen to leave the structure in France he was in for the last few years (with success) to go train within a group of triathletes (included Mario Mola) managed by Joel Filliol. I remembered (stupidly) thinking : "well, sure it does help to have training partners but Triathlon is (for now) an individualistic sport so you can train alone and therefore is it really worthy taking the risk to jeopardize a system that is working for something unknown?". Yes, it is debatable thinking. But, today, I see perfectly clear how important good team-mates are to keep you on track, enjoy the long journey that is the Ironman preparation as much as possible. Because let's be honest: If when the alarm clock is beeping at 6AM, it is cold outside and you know the day will be super long at work/uni, if you do not want to stay in bed instead of that early swimming session, something is WRONG with you! But knowing that you are expected by your friends, knowing that the others are probably as pissed as you makes it ok and you just go along with it.
Another key aspect is that the team gives you a perpetual challenge, so that you are aiming for progress, success and new goals every day. This is exactly what happened: me seeing my training partners reaching for the same target that was the Ironcat 2019 made me want to share that with them, so I climbed aboard this craziness train. Few months of preparation, everyone super motivated, sharing the hard sessions, the ups and the downs. It was tough to juggle between uni and trainings but I could not complain as some of my friends are doing it with work and family.
Training and bike settings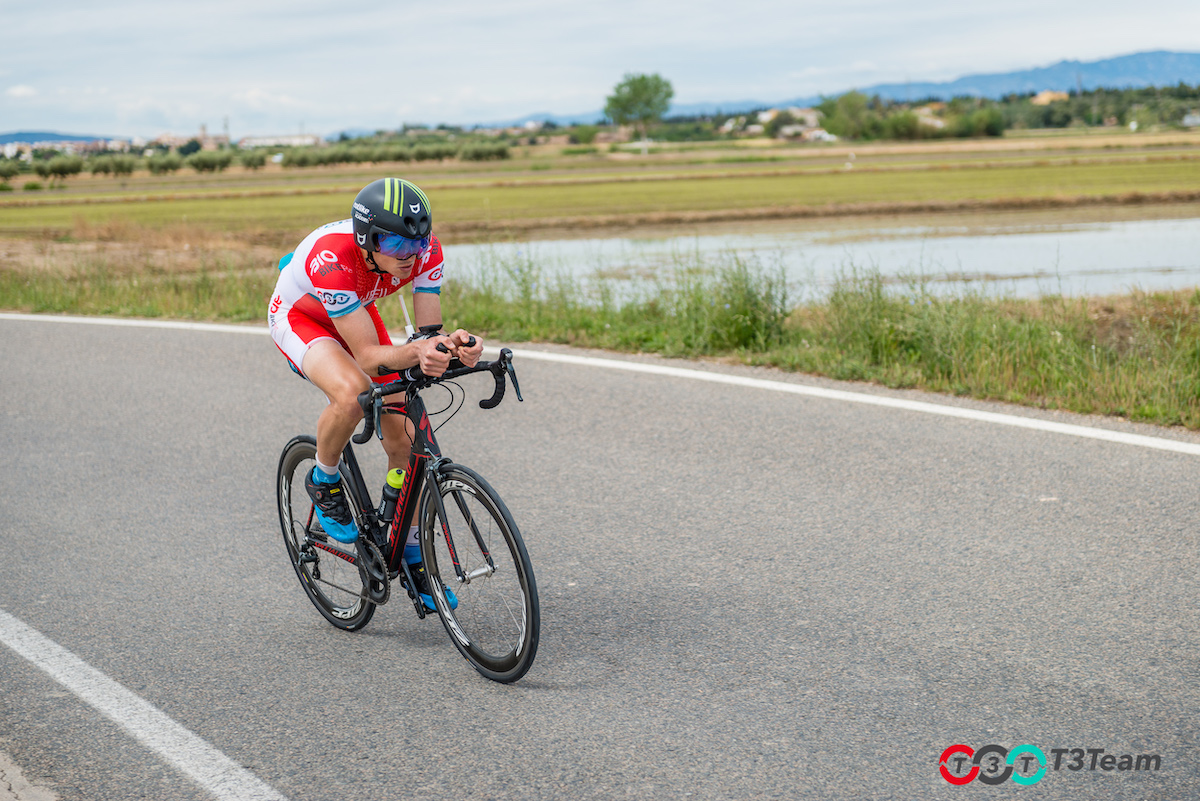 Because I do not own a triathlon specific bike I knew that finding a good compromise between being aero and comfort (read as comfortable as possible for more than 5h straight) would be key but complicated. Fortunately one of my training partners, Oriol Palau is not only one of the creator of the T3 Team club but is also owner of BioBikeFit. I have to admit that the effort he put to encounter that compromise is remarkable and I really doubt that finding a better bike setting was possible. So special thank to this expert and to another one named Quike, who helped me find new wheels, I would be able to compete with a decent bike! 
Despite NUMEROUS hours of training it seems that within a blink of an eye we were starting the tapering, the period where you train as often but with lower intensity.
Then came this ultimate/endless week before competition. The WhatsApp group we had, gathering Ironcat's competitors, was being full of weather forecasts/analysis, with an hourly update. It was tough for the nerves and added difficulty to prepare yourself because of these uncertainties. To me, it was kind of "now or never" because I am pretty sure I will never have the conditions I had these last months in the future, so no need to say I was super stressed that they would cancel the race.
Day -1
Oriol and Ivet, once again, offered me to give me a drive to l'Ampolla, where the Ironcat takes place. After meeting, some of the team we attended the race briefing; and it did not sound great. As everyone, the organization was quite pessimistic about the wind conditions that we were going to have. But, the message was more "we are doing it the way we can" than a complete no-go. That moment was really weird because I guess everyone had had a tough time so far to mentally visualize the race and now, there were no other options than preparing yourself within this very short period of time.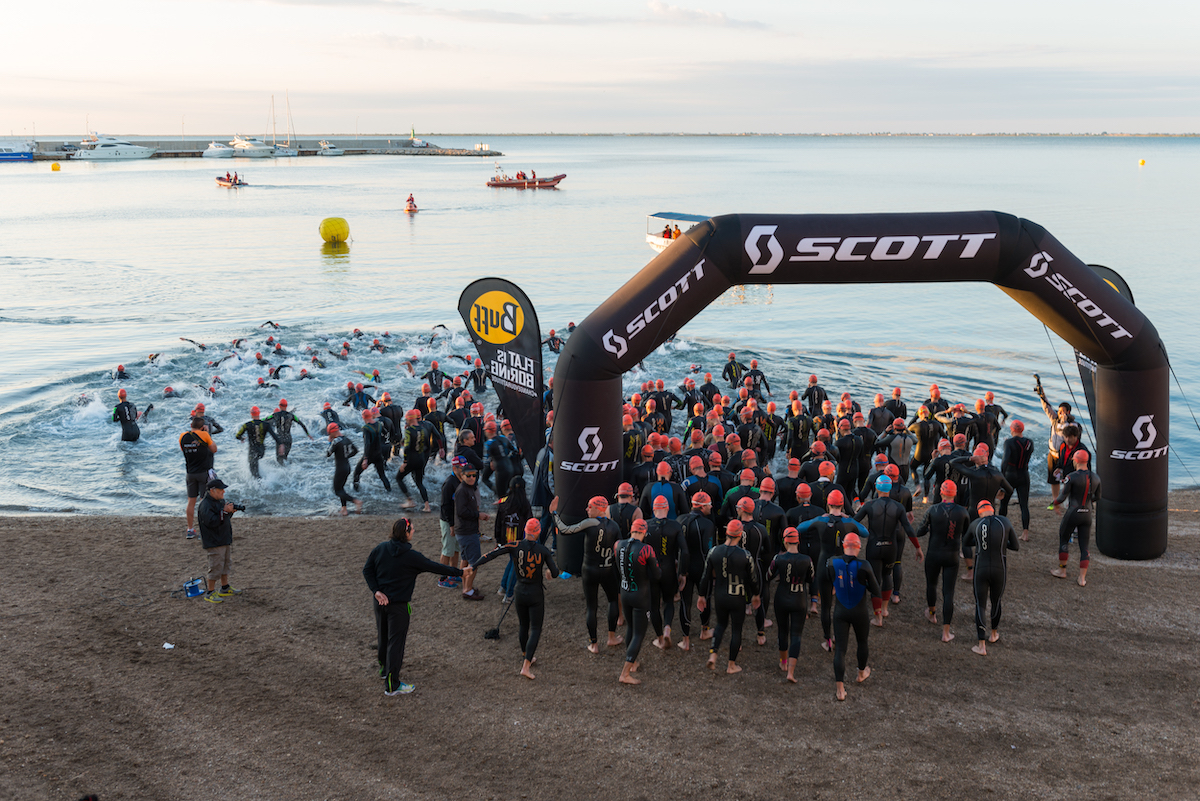 Day 0, 6AM
After a pretty decent night of sleep, it was time to head toward the transition zone. Weather looked perfect, sea was glassy and flat as a lake. It looked great! After having prepared everything in the box transition, we all headed toward the beach where the swim start took place. During that walk you could see almost every strategy an athlete can adopt to cope with nerves: some are within "their zone", not talking, last-checking every detail / Some are laughing with others / Some are more quiet and looking for friends or familiar: I guess all of us looking for something reassuring. This distance is quite a thing and everyone knows that suffering will be part of the day, and this is a bit scary.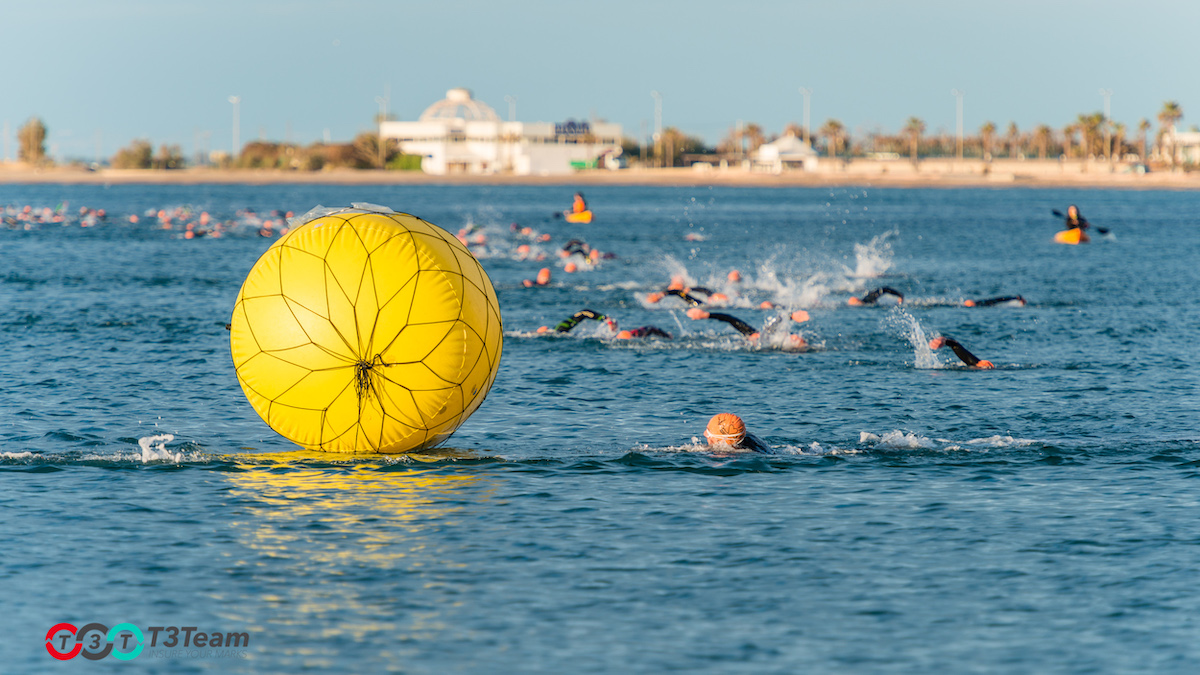 Swim
That is it, the gun fired! One awesome detail of Ironcat is that there is not more than 200ish athletes and therefore the swim start was not a battle. I rapidly lost the group I wanted to stick with and ended up in second line of a small group. This was fine to me at first but I saw that we were going quite slowly and the pack we had ~50 meters ahead was increasing the gap quickly. I decided to try to catch them, so for ~1' I swam quite quickly and fortunately managed to close the gap. I guess 2 other persons had followed me in this effort. One of them was my friend Quike and the other one would be our front man for the rest of the swim: thanks to him! 3,8 km later, it was time to reach land. Sensations were great, and I was happy of my swim without even looking at the time at my watch. Slow T1 but I wanted to make sure to not forget anything.
Bike
6 loops of 30 km are part of the Ironcat game. The landscape is amazing, sea on one side, mountains at far and small roads surrounded by rice crops. If you do not believe me, check Enric's profile (Oriol's father) on Instagram, his pictures are just insane. Sensations were great and I had to convince myself for the need to calm down and enjoy these good feelings as I knew that sooner or later suffer fest would start! Nutrition plan was going smoothly, thanks to Ivet Farriols and Tina! I even had my moment of glory during my fifth lap: the future winner was about to finish his last lap. The organization and security motorbikes were opening the road to that impressing athlete, but I was the one between them and M. Karas. Creating funny situation as the people alongside the road, thinking that I was leading the race, and cheering me like crazy! I guess this is when my watts peak happened!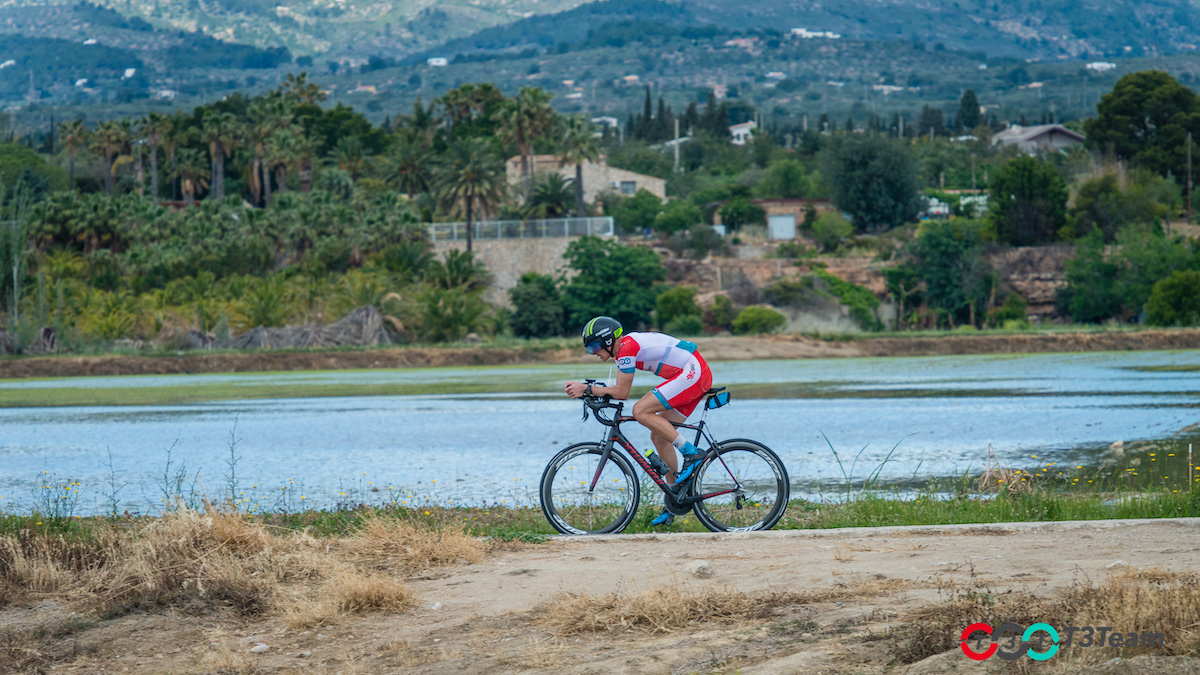 Run
I do not know if, with experience, that feeling fades away, but entering the transition zone after 6 hours of effort to put your shoes on and go for a marathon is something. But I felt great, normally tired / almost none digestive discomfort. Everyone had told me "the race really starts at the second part of the marathon" so I knew I had to be very conservative during the first laps. Unfortunately, I was not able to control my run and despite looking at my watch every 15'', I was going way too fast. Finally, after almost 10 km I managed to run at pace I had planned. Having friends and support inside and outside the race is definitively a HUGE help.
So thanks to Ivet, Tina, Monica, Oriol's parents, Miki's family! Despite this legal doping, from km22, it became complicated, very complicated… It was not a specific body area that was painful but I guess a general fatigue. While thinking of foods, travel, personal stuffs. I managed to (slowly) make my way to the finishing line. I have to admit that I do not remember every detail but the ultimate hundreds meters are the bombs. When the speaker says your name, you see the time, you pass the arch, the brain must be secreting a crap load of happy hormones because you feel like flying. I was done for the day, happy of my time, happy that all my friends had impeccably raced, happy to see that our collective work had paid off for everyone.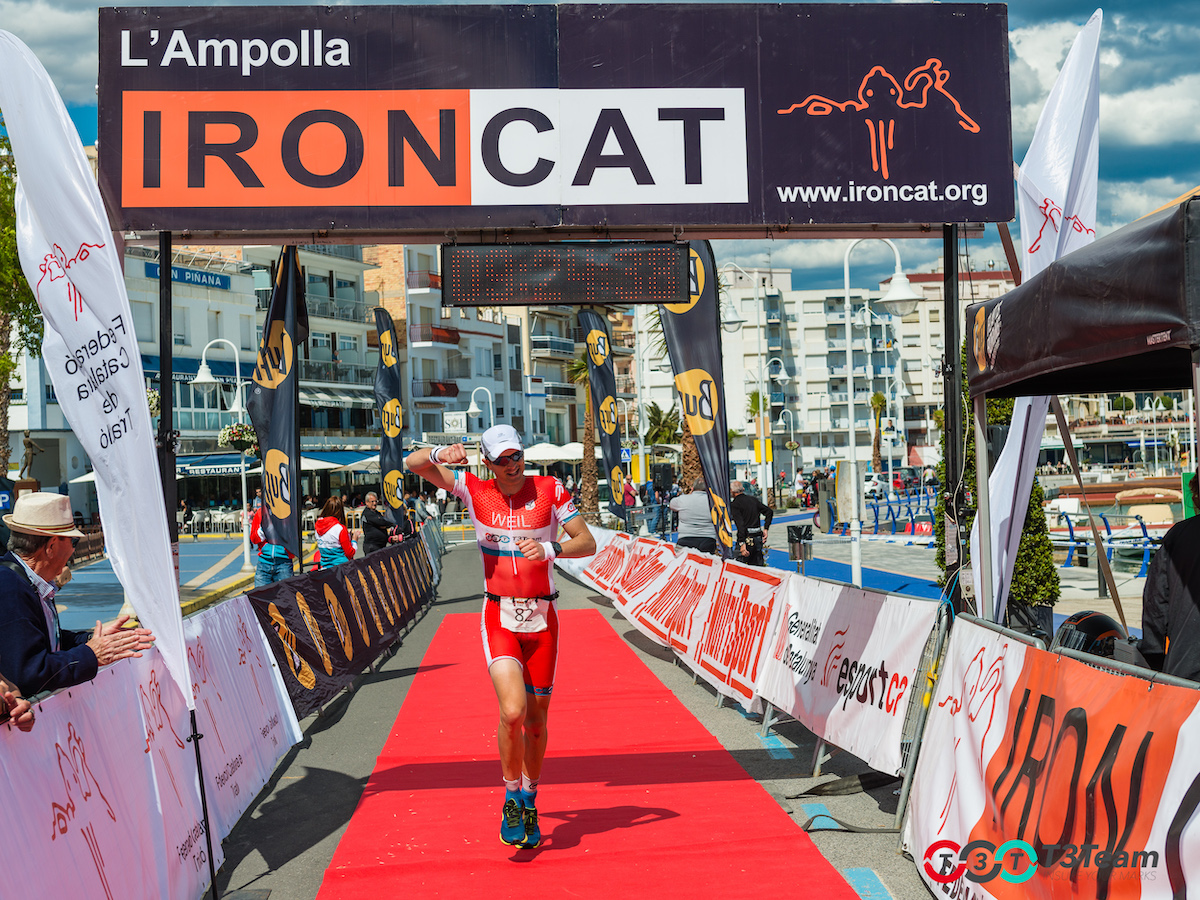 Last comments
I am very grateful for all these people who played a role during the preparation or during the race: Ivet, Oriol (2 years that I am training with him now and still a real pleasure to progress together), Tina, JR (the guy is the powerbomb equivalent for everyday's life: never seen the guy not smiling), Òscar (great athlete who could not show all his potential due to a bike fall injury, but he is an amazing triathlete and I owe him great part of my swim progress), Miki (an example in balancing the life-work-tri balance and an amazingly strong mental: all the best for Kona), Quike (one of my triathlon mentors, always trying to convince me of my potential but I wish he would start convincing himself too of his capacities), T3 Team members, DiR Swimmers, …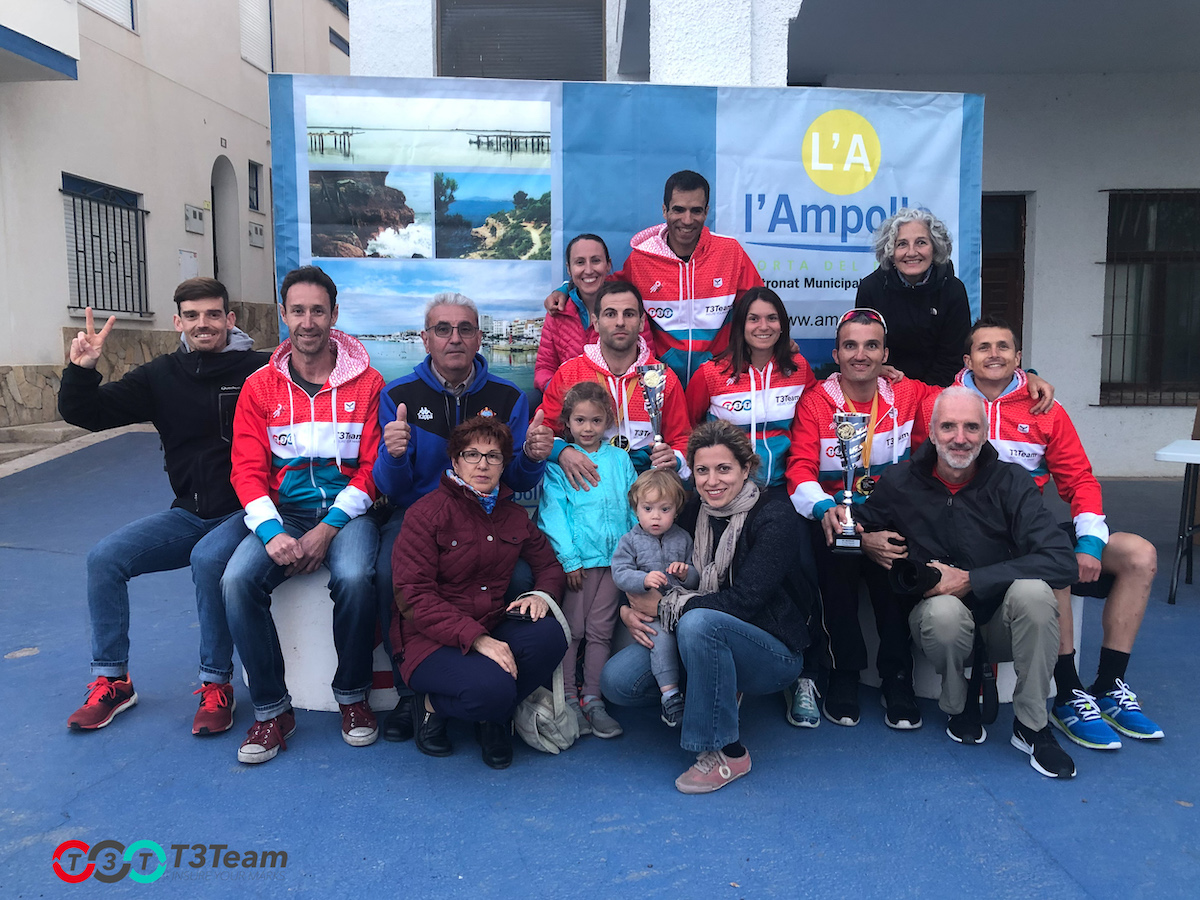 A special mention to Ivet Farriols who was always keen to share her training knowledge with me, when I was a bit lost during my preparation.
A superb life experience with good friends constructing unforgettable memories!
Cheers everyone!